The Ludwig Bass Drum Anchor used by Ringo Starr of the Beatles
Taking a look at this early promo photo from Ludwig and looking at the Ludwig catalogs from around the same time we can see the version of the bass drum anchor that was on Ringo's Kit.
Here is a close up of the anchor in this photo. We do see that the plastic tips being used are not the same as the ones in the Ludwig catalogs.
Here is a little timeline of the Ludwig Bass Drum Anchor. This anchor was of course made by a company called Walberg and Auge. They made a lot of hardware and accessories for many drum companies at that time. Looking at the artist rendition and the actual anchor we can see the distance between the rubber tips is not accurate. The one on Ringo's kit shows the tips much closer then the ones in the catalogs at the time.
The 1949 WFL Catalog Photo - NEW!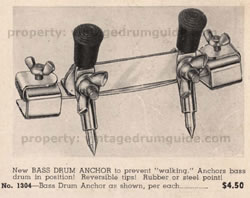 ---
The 1961-1962 Ludwig Catalog Photo

---
The 1963-1964 Ludwig Catalog Photo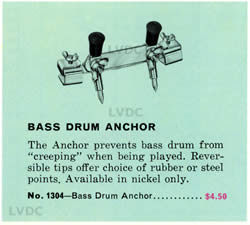 ---
The 1966-1967 Ludwig Catalog Photo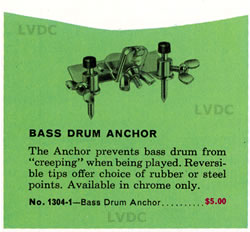 Other notes of interest about bass drum anchors during the 1960's. Leedy, Rogers and Gretsch used the same design as Ludwig. Gretsch and Rogers show the bass drum anchor with the spikes closer together. Camco and George Way had a different version wing not on the hoop clamp.
---
Rogers 1962 Bass Drum Anchor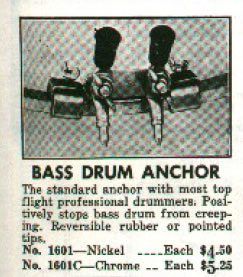 ---
1961 Gretsch Catalog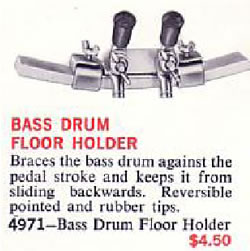 Notice Gretsch did not picture the spikes correctly in the catalog
---
1965 Leedy Bass Drum Anchor
---
Camco and George Way both pictured this version with the different style wing nuts

---
Here is a Premier Bass Drum Anchors from the 60's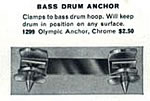 ---
Here is the version from Edgeware (Boosey & Hawkes)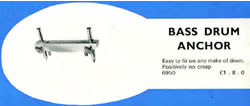 ---
Pearl Bass Drum Anchor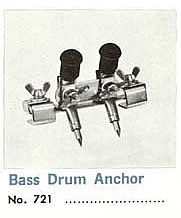 ---