Drove 168 miles to run 3 miles…running in memory of Louie!
We had the opportunity to run in the Louie Bellson Memorial 5K "Drum Roll" Run on Saturday, October 16, 2010. The race was held at Louie's alma mater, Moline High School in Moline Illinois.
Louie was a 1942 graduate of Moline High School and has left a legacy of drumming greatness. It's because of his greatness and our connection with the drumming world; that I wanted to be a part of this big event!
Check out video from the Louie Bellson 5K Memorial Run
Come race day, we packed up my running gear, filming equipment and got on the road by 4am to make the trek down to Moline. It was really neat driving through the campus of Moline High School and trying to envision Louie Bellson as a high school student there....where were his local hang outs and how did this environment lead to his eventual drumming greatness? A very surreal moment!
After meeting with Rob Moon (Race Director) and staff, we registered and was issued my race number and commemorative shirt...then we were ready to begin my 3-mile journey! It was a beautiful morning with sunny blue skies and crisp fall temperatures...perfect for running.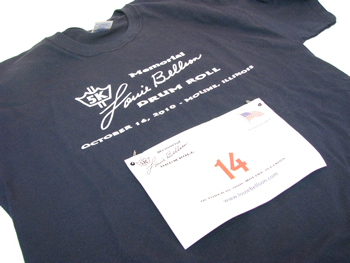 The official Louie Bellson 5K event shirt
Louie's niece (Christina Bellson Marlin) wore the #1 bib number and signaled runners with an official air horn blast! The Moline Police Department also helped out and did a great job keeping the course safe with their traffic control.
After crossing the finish line, we felt a major sense of accomplishment by helping to raise money for music education in the Quad Cities and honoring drumming great Louie Bellson!
The top runners were awarded prizes, including gift certificates from The Drum Experts and grand prizes of kids snare drums from the 5K Race Committee. It would have been great to come in first and grab one of those cool little Louie Bellson drums!

A special thanks goes to Francine Bellson for sending us the event announcement. Without her continued efforts to keep the name of Louie Bellson going, we would all miss out on preserving great drumming history.
Be sure to check out the official Louie Bellson website for current news, events and products: www.louiebellson.com
- The Drum Experts (10/16/2010)

Check out the 2nd Annual 5K Race held on 10/22/2011
Help support Louie Bellson Music!

Click here for Louie Bellson Music on Amazon.com
Please visit these Louie Bellson websites:
Bellson Website Gift Shop
Write comments on the Bellson website's Guestbook